---
Status
Confirmed - Evening 17 July 1998:
Confirmed - the Fox is at Big Meadows
Confirmed - 898.8 miles complete (41.64%)
Confirmed - 1259.9 miles to go (58.36%)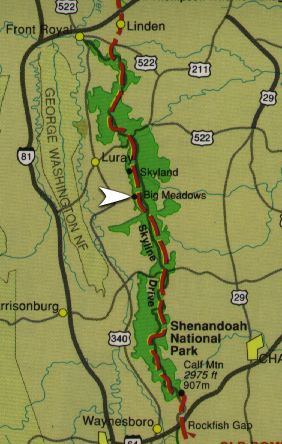 ---
Bobby in Big Meadows
[16 July 1998] This evening the Fox reached Big Meadows campground in the middle of the Shenandoah National Park. He has been hiking with NaPensee (Miller Templeton), who will stay in the hotel there this evening. The Fox has availed himself of a shower, and tonight both hikers will eat at Big Meadows restaurant. All three of the Fox's meals tomorrow will be in restaurants as well; he is very happy. This puts the Fox a little bit behind, but he plans to be back on schedule when he reaches Front Royal.

Legend

The white arrow indicates the Fox's last confirmed position on the trail.

The blue arrow is an estimate of the Fox's current position.

If the Fox is significantly ahead of or behind his projected schedule, a red arrow will appear that indicates where he had planned to be by this date.