---
Status
Confirmed - 31 August 1998:
Confirmed - the Fox will continue
Confirmed - where he left off at
Confirmed - South Mountain, PA
Confirmed - 1051.2 miles complete (48.54%)
Confirmed - 1114.3 miles to go (51.46%)

---
Fox Returning to Trail
[31 August 1998] The Fox is returning to the Appalachian Trail. Today he is taking a train back to Pennsylvania, and will spend three weeks on the trail before returning for the start of school here at Georgia Tech. He will start again where he left off - at South Mountain - and hopes to hike through Pennsylvania and some of New Jersey before returning to Georgia on 22 September.
---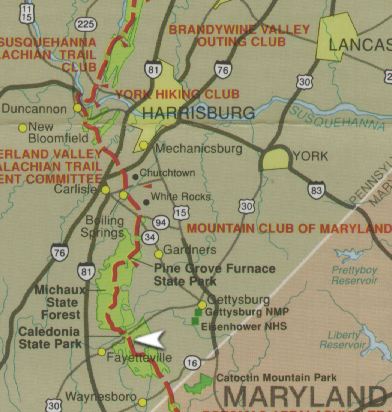 ---

Legend

The white arrow indicates the Fox's last confirmed position on the trail.

The blue arrow is an estimate of the Fox's current position.

If the Fox is significantly ahead of or behind his projected schedule, a red arrow will appear that indicates where he had planned to be by this date.