The GoldenEye Arms Reference
Home Page
---

Site Navigation
Home Page
- Introduction and credits.
Principles
- General behavior of firearms and explosives.
Weapon Details
- Detailed descriptions of each weapon.
Weapon Comparison
- Ranking of weapons by performance metrics.
Multiplayer Modes
- Analysis of multiplayer weapon combinations.
Realism
- Authentic and inaccurate aspects of gameplay.
Methodology
- Techniques used to measure several metrics.

---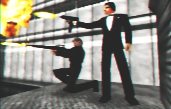 Welcome! These pages describe, catalog, and evaluate the weapons available in the GoldenEye 007 video game for the Nintendo. They attempt to satisfy what has heretofore been a lack of solid analysis of the game's arms and their relative merits.
Visitors should first read the section on Damage that heads off the Details page, which defines concepts fundamental to the rest of the site; they should probably also read the other introductory materials, then will be able to browse the rest of the site profitably. A short table of contents is provided at the top of each page to aid in navigation.
Update (18 December 2000): two errors in this site were brought to my attention by Hu Man Bing, who contributed to the GoldenEye weapons and ammunition statistics available at www.gamefaqs.com. Both oversights have been corrected: the shotgun is recognized as delivering less damage than the Automatic Shotgun, and the actual amounts of damage inflicted by Golden weapons - although very high - are now correctly stated rather than simply called ``infinite.''
---
Disclaimer

These pages derive from detailed personal study by Brandon Craig Rhodes and his copyright and license are noted at the bottom of each page. These pages are not associated with, nor approved by, either Nintendo, who designs and manufactures the Nintendo 64 game machine, or Rare, the programmers who gave us GoldenEye.
---

Copyright © 1998 Brandon Craig Rhodes and licensed under the OpenContent License.